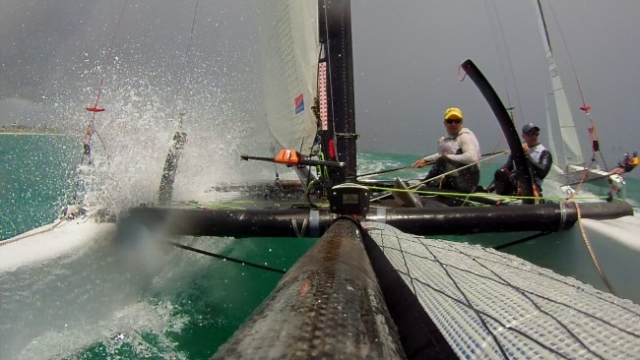 The second race in the Endurance Series is Saturday August 8th. Gilligan's Run is about 25 miles which is the shortest race of the series. The race starts at Perry's Ocean Edge Resort heading North to the Main Street Pier then back South to Ponce De Leon Inlet rounding an inlet buoy before turning back north to finish back at the hotel. The exact course is dependent on wind and will be determined the morning of the race.
Gilligan's Run is the only one day race in the series which starts and finishes at the same place making the logistic very simple. The coast off of Daytona Beach stays shallow for a long way out making getting through the surf to the starting line almost as challenging as the race. Watching the boats launch off the waves through the surf before the race is always a fan favorite.

The race is hosted by Fleet 80 and there is always a good turnout of local sailors with superb knowledge of the area that always make the competition interesting. After the race, all the participants will be treated to a fish fry at Perry's Ocean Edge Resort before the awards presentations.
The plans for Sail Series Promotions 2015 endurance event will be announced at the awards ceremony.

Website Links:
Sail Series Website >>>
Fleet80 Website >>>
Online Registration  >>>
Who's Coming >>>
For more information on the Sail Series Promotions, the Endurance Series, or Gilligan's Run, please check out www.SailSeries.com and "Like" www.Facebook.com/sailseries.