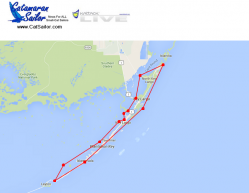 This weekend is the 31st running of the Steeplchase catamaran race. The two day event starts and ends in Islamorada,
look
Florida and circumnavigates Key Largo and other Florida Keys. The first day starts at the Islander Resort on the ocean side of Islamorada to Angelfish Creek then over to the intercostal/Gulf of Mexico side of the keys continuing to the Upper Keys Sailing Club. The Second day continues to the Channel 5 bridge then back the Islander Resort for the Finish.
The weather forecast this weekend is supposed to be perfect for the race with wind predicted ENE at 10-15 mph Saturday,
and
SE at 10-15 mph Sunday, 80 degree temperatures and a maximum of 20% chance of rain. This race is regularly attended by teams from the north seeking a break from the cold weather.


Saturday morning is the start, and the longer of the two days sailing northeast to Angelfish Creek. Navigation is pretty simple but a GPS is standard equipment. Through Angelfish Creek and down through Card Sound, under the bridge and across Barnes Sound. Card Sound Bridge offers great photo opportunity and many crews meet there to check on their teams. Jewfish Creek slows things down where teams can paddle and show skills that only the Steeplechase can teach. Past Gilbert's and down Blackwater Sound, through Dusenbury Creek and into Tarpon Basin. Grouper Creek opens up into Buttonwood Sound and the final drag race into the Upper Keys Sailing Club.

Sunday morning start with course southwest and through the maze of flats and channels. Under the Channel 5 Bridge, make a left turn and sail northeast for an hour or so to finish back at the Islander. Drink cold beer, break the boats down and tell stories until Rick hands out awards.

Finishing the Steeplechase has always been an award in itself for me. It's a physical and mental challenge, yet a refreshing retreat into some beautifully scenic sailing that is the Florida Keys. The Keys are unique and diverse and the Steeplechase puts you through all of it.

Although dominated by spinnaker boats like the I20, F18 and the ARC 22, the race has been completed by Hobie 16's as well. You will find highly skilled seasoned veterans on this race, but the average sailor can also test their limits in the protected waters of the Florida Keys. Set your pace and settle into your groove, smart navigation and persistence will pay, sometimes big time.

Tracking is available via Kattack Mobile smartphone app and can be downloaded for free. SPOT Messenger can also be used, just set up a shared page and email the page address to This email address is being protected from spambots. You need JavaScript enabled to view it..

The Steeplechase is the final race of the Endurance Series and each day counts separately for points. The 2015 awards ceremony will be held at the Florida 300 Awards in May. For more information about the Endurance Series and Sail Series Promotions, please check out www.SailSeries.com and "Like" www.Facebook.com/sailseries.
EVENT LINKS:
CatSailor.com >>>
Event Information >>>
Online Registration >>>
Who's Coming >>>
Tracking >>>
Mobile Tracking >>>