By Dick Macdonald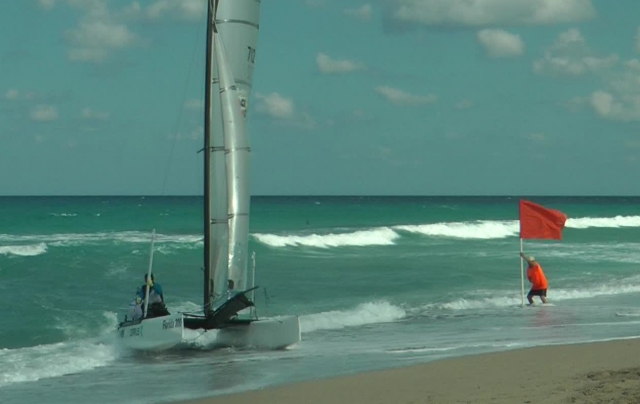 How was it...?
This race came together quick, medical and fortunately I was in a position to form a team and commit immediately. In fact our registration was the first received. Never did a Tybee, salve but always admired those who have. Could never comprehend the idea of a Worrell, ampoule but now I've met people who do.
12 boats started and 9 boats finished, of those we finished 7th. We sailed well and enjoyed the event. My personal goals were met, and my skills took a step forward that make sailing even more rewarding.
This is how it was and what worked for me. For you veterans this may be a boring read, but my intention here is to open the possibility of this race to others like myself who are still developing our skills. For the competent sailor who is working on going faster, this is a great way to build stick time around really great sailors.
The Team.
I am very fortunate, my wife supports my sailing and loves to sail with me. But she prefers what she calls "happy sailing", which is not really racing. She was the manager and handled all the food, hotels, driving, carrying wheels, and all that little stuff that makes everything good when a really tired sailor hits the beach. She was awesome and never complained once. Thank you Linda!
The boat crew was a seasoned sailor with Tybee and Worrell races under his belt. I was glad to have had his experience on the boat and knew he would be ready for anything. For my first time I considered seasoned crew a requirement. He pulled hard for a long time, ran the GPS, and body blocked some big waves for me. He was awesome and never complained once. Thank you Mark! Mark's wife Lisa was also there for us the whole time and made sure he was ready to go with a smile every morning. I think she was running their business from her cell phone all week. Thank you Lisa!
The Boat
We sailed a 2 year old Cirrus R F18. The Cirrus R is an awesome boat and I believe the F18 makes a great distance and ocean racer. Having sailed this boat in all the distance races in Florida this winter plus running the Miami to Palm Beach leg for practice, I consider the boat to be in prime condition. Aviation maintenance is my trade and as such I relentlessly inspect and tinker with the boat. The week before the race, with good music and cold beer, I sat on the couch and ran every inch of rigging through my fingers and checked it all under a bright light. Shackles, hardware and fittings were inspected under 10x magnifying glass for cracks. A new spin sheet and some bungees were replaced. All projects such as chicken lines and tramp bags were all completed before hitting the road for Islamorada. Sound excessive? Maybe. All that red stuff on sailflow.com made it appropriate, to me.
One of my pet peeves is being distracted during the rigging of the boat. Even those who intend to help can actually cause me problems by asking a question at the wrong time. Apologies to those whom I offend by being anti-social during this process, but I take the assembly of my boat very seriously and it always pays off. For this reason I rigged the boat away from everyone else. Just my wife, good music, and cold beer. As a result the boat sailed great with no issues.
Health and Fitness
Every morning other sailors would ask, "how do you feel"? My answer was honest, I felt good. In fact I felt great. But this was the result of careful planning and hard work. Managing diet and exercise is something I do to "age gracefully" anyway, but I believe gym work is part of sailing safely. When sailing with my wife her protection is my first priority, that requires some fitness.
Once I decided to do the race I stepped up my cardio, strength training and getting good sleep. My target weight is 175 and I got there. And I still drink my share of cold beer, so spare me the whining. Considering that I may need to relieve the crew I wanted to prevent injuries like tendonitis from holding lines for a long time. I focused on training those parts by interval training and giving each area good breaks between hard lifts. Staying on the wire for 5 hours on the same tack is NOT easy, but on day 2 I did. My preparation worked well and I felt comfortable on the boat. This really made me a believer that good fitness is key to enjoying this type of sailing. Yeah the boys did get pinched a bit but a little harness adjustment fixed it. You just gotta dig your fingers in and move things around. Driving a straight line while doing this is the hard part.
As for diet everyone is different. I simply just cannot eat a big meal under those circumstances. Everyone said to "eat", but I just felt better with an empty stomach. Really light dinner of mostly raw salad, eggs for breakfast, watermelon before the start, and a Kind Bar which is nuts/oats and honey during the sail. On the beach at the finish was always waiting a cooler full of highly nutritious cold beer and sushi from Publix. The quick blast of dense protein helped me recover energy really fast. I think I lost 2 or 3 pounds that week, but again, I felt good.
Lots of sleep each night! For those who party late and drink lots of rum, you're just better men than I. A glass of wine and I'm done early. After the second day of racing I enjoyed some of my wife's lasagna and passed out at 6:30 pm. I believe I was more mentally tired than physical, but I was done! Next morning… felt great again. "Woo-hoo where's the boat"!?
Race Management
It seems like everything in this world is just a little bit screwed up. It's always something! But I can't think of anything about this race that was. I mean to say, that it was organized well enough that it just happened, behind the scenes everything was done. No confusion, no chaos, no conflict… it was actually a pleasant experience in a very relaxed atmosphere. Thank you Chuck, Warren, Craig, Larry, Dennis and all their friends and families for making this happen. Also, there were some very experienced sailors on the beach at each start and finish to help with the boats. I really appreciated that, thank you Kenny, Terri and everyone else who I don't know but were there.

It's worth mentioning that I ended up in "the room" over a surf induced directional conflict during the 4th day start. It was my first time… and it didn't hurt! There was a judge, we all spoke our peace, a decision was made, redress was granted and I believe we all parted friends.

Sailing the Race: Day 1
Watching the forecast and weather as the race approached made it clear we would have breeze and lumpy seas. But at least we didn't have much grass to deal with, I really hate that stuff and it wears out the crew clearing boards and rudders. The first day is part of the steeplechase backwards so I know the ground fairly well. There are some reefs to beware of and finding smooth water was important so everyone stayed close to shore. The seas got progressively bigger offshore and let you know when it was time to tack back in. Looking at the tracks, we all did pretty much the same thing, with some exceptions. The guys with more local knowledge braved the shallow water. A few boats tried their luck further out but I don't think it paid well. Just too lumpy.

The "washing machine" east of Biscayne bay, north of Soldier Key to Cape Florida was for me the most challenging part of the entire race. Close reaching in 18 with gusts in the 20s and a very confused sea that also had breaking waves required attention. Flipping the boat there would just plain suck. It was good sailing for an F18, I mean the boat handles it well. The problem for us was getting washed off by big surprise waves. The chicken line kept coming uncleated and when the crew got clobbered by a wave, we both went off the back of the boat. If you're dragging along hanging on to the foot strap and steering from the back of the rudder try to NOT fly the hull. Trust me, doesn't work. After the third time, I resorted to riding on deck which then results in water boarding and subsequent blindness. I think I almost drowned sitting on the boat!

Rounding Cape Florida I had a strategic left turn planned to avoid the shallows. This worked well but put us on a beam reach and we started digging the bows a bit. The I20 in front of us dug in and went over. So we sailed deeper to the beach ¼ mile south of the finish, then sailed casually up. With everyone watching we screwed the finish by leaving the boards down about 2 inches and stopped dead in the sand. Mark went flying around the front and landed squarely on the spin pole. No damage, just felt stupid.

Day 2
This leg I've been looking forward to because it's my turf and we ran this leg for practice. I like sailing without the worry of hitting shallow water or reefs. Breeze is ENE mid teens and a beautiful Florida morning. Catch breakfast and I'm ready! Not a bad start, we're towards the back rounding the governor's cut but got 65 miles to go. Seas were still lumpy and staying a ½ mile off shore was about the furthest you wanted to go. Passing the inlets the lumps were approaching 6 ft with the occasional 10 ft swell. Most were not real steep so sailing over and around while double trapped is actually a lot of fun. The ones that stand up and break will get you. I try to get on the back side of those.

The Cirrus R has big beefy hulls and really drives nice in the ocean. I was having a blast, and keeping up with the pack. For most of the leg we were drag racing Ding, Todd and an I20. We pulled ahead of all 3 boats and held the lead for 20 miles or so. This was huge for me, as it was indeed the first time I passed another F18. And considering who was on those boats I was quite happy with myself. Considering my skill level, it takes me way more brain power to maintain the focus to keep going that fast. At the Boynton Beach inlet the conditions changed and we needed to change gears. I believe from being mentally tired we lost our groove and took awhile to get it back. They all passed us as we struggled to accelerate in choppy water and fickle breeze.

Being the gentleman he is, Ding allowed me to cry on his shoulder and agreed I just wore out and with more time it will happen less. For me, it was these moments that were the true value of this race. I pushed hard to point of failure, got to look at what went wrong and learned the lesson. What would I do next time? Same thing, just beware of mentally dozing off.

To conclude day 2. The finish is home. Really, we live on Singer Island and walk that beach often. I am truly in my water as we approach the beach. The breeze is up and we're double trapped tearing it up as we come in. Punch through a couple big waves crossing the inlet channel. We ain't winnin' but we're having fun, and I bet we look cool. As we approach the finish I see a swim buoy and have to make a little jog to go around it. Now it's just boards up, ease the main, travel out, "honey I'm home"!

Before I go any further, you should know that on the beach is my wife and my daughter with my 2 grandsons. Arthur is 3 and has been anxiously awaiting our arrival all day. His little brother Oscar is still just smiling and drooling a lot. It's a baby thing. So there is some pressure for me to fulfill any and all expectations of a skillful and successful landing. Well sometimes things just work out right, even if you don't know how.

Right about the time I eased out the main, Mark jumped on the wire, and rudders went up, a puff of perfect shape, angle and color crossed the surf line. The boat lit up like a stud colt through a barn door with the neighbors filly on his mind. We sailed up the steep slope, cleared the burm and spun out only feet before entire line of boats and unsuspecting sailors. I believe if it were not for some tactical body blocking there would have been gel coat swapped. Thank you Charles, and everyone that caught us!

Like I said, we didn't win, but we sure had some fun. Oh yeah, this was the night I went home and passed at 6:30. I woke up with lasagna sauce on my face.

Day 3
Good night sleep in my own bed, launch from my home beach, this should be good day. The wind had eased off quite a bit and the surf wasn't bad but it was enough to make getting launched difficult. The real problem was that we all voted to start on starboard tack with a ENE breeze. What were we thinking! We got stuck in the surf until we tacked to port and then got on our way. Big thanks to Bruce who stepped up as pusher.

We are now in the back of the pack. But I have a plan and all things considered we have nothing to loose. Apparently the golden rule of distance racing is "stay close to the beach". I understand the physics of it and agree it works. But I'm thinking differently. With the bend of the state and the forecast shift, I'm going offshore. After the point where the beach heads NW and the breeze goes SE, I'm thinking we can hold the kite. At least starting from further out we can hold it longer than everyone else and perhaps catch up to the fleet.

So that's what we did. And to boot, we locked the mast over to 90 degrees and I played the main traveler to hold our course. With the mast locked it did not bend at all above the hounds. With the puffs I traveled down and we went forward with minimal heading change. We finished 4th out of 10 boats. Our best day and the success was a well needed boost to keep us charged up.

The sense of accomplishment for doing this race and sailing well has started to settle in. What is becoming increasingly apparent, is that I'm getting really comfortable and tuned into the boat. Everything I do is smoother and more accurate. I'm not getting tired or worn out, I'm getting warmed up and I'm getting better. This connection with the boat, the sea and the wind has become what this is race is about, for me. Ok, I do like the T shirt too.

Day 4
We slept at Mark and Lisa's house, (thanks guys, I slept like a rock). Had a good breakfast and noticed there was NO wind. This could be a long day. The forecast was for light winds but a typical Florida day normally includes a sea breeze after lunch. We brought some extra water just in case and an extra Kind Bar for my pocket.

The start was brutal, a light west breeze off the beach and it switched around to east in the surf. We had to paddle through the surf to get going. Guess what? We're in the back again. And we got hit by an I20 and didn't know it. Those poor buggers took on water and had to pull out after 5 miles. (Ref previous comments about the room).

We stayed in the back the entire day and finished there. But it was without a doubt one of the best days of sailing I have ever had. Flat water with the kite up, passing turtles and big fish. As the breeze built we were double trapped spin reaching. Nothing to loose again so I headed offshore for a faster angle and hopefully catch the sea breeze first. We did and closed up the gap on the fleet but ran out of time to do any damage. We watched as the other boats jibed into the finish. Most over stood or jibed early and had to take another slice at it. We were coming in hot and they were getting bigger. I knew we wouldn't catch anyone but it was cool. We layed the finish line in one jibe and sailed hot to the beach in good form. Sailing past the pier there were lots of hoots and whistles as I'm sure it was obvious we were having some fun.

That last jibe was bitter sweet. I had finished the race after sailing well and we were not in last place overall. This was the end of a grand adventure.

But actually it wasn't… cuz we got plans for the weekend! That's right, we're doing the KPRR buoy racing regatta all weekend! Yeah it just sucks to be me don't it.

The next day, Ding and I launch our boats off the beach and sailed through the Cape Canaveral locks to the Banana River. Actually we got towed through with the help of brother Bob's boat (thank you Bob) and a retired navy captain who drove aircraft carriers. Forget his name, but thank you sir. Gina helped arrange that, thank you Gina. That was a cool adventure and was another day of fun. The sail through the port of Canaveral down to the locks was a spin run and jibing in front of the restaurants provided some entertainment for the patrons. Lots of hootin' n' hollerin' as we would jibe up close to crowd. And again, the fun was just how tuned into the boat and comfortable I felt. It was just getting so easy to do.

Compared to the other folks that sailed the 300 and even the other F18's that sailed the KPRR I don't have that much time on the water. The KPRR was the 4th buoy race I've done and I took 3rd place for the weekend. That's how much the 300 helped develop my skills. I did get some really great tips from Ding, Laura and from Karl over the weekend which helped greatly, thanks guys. Also during the 300 beach chatter I listened very carefully to everything that was said, thanks Todd, Dalton, Kenny, Jaime, Craig and everyone else in the race. Watching you guys sail helps me more than you probably realize.

Driving home I could not stop looking at my boat in the mirror. FLORIDA 300 bold and proud on the hulls. If it sounds like I'm full of myself over this it's because I am and will be for some time. Completing that race was an accomplishment I'm proud of and grateful to have had the opportunity.

So this is how a new guy can get through a race that is normally done by veteran sailors. If you're on the fence about this I hope this helps you decide. If you're interested but don't know where to start, I hope this gets you started. Someday as you look back on your life, I promise that your memory of sailing like this will mean so much more than buying some materialistic consumer product that you really could live without. Live with your old truck, don't upgrade your phone, be creative and eliminate some costs in your budget to save up for this race. Find me at the Islander next year cuz I've got a beer for you, and rum.

Dick Macdonald
Team Turtle Mojo
Cirrus R F18