By Mark Herendeen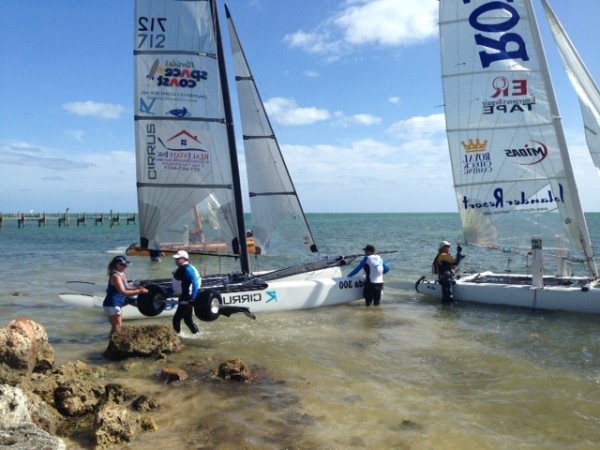 fExperience and history or time on the water mixed with fine tuning or training over years is the best to be ready for conditions & especially during the 1st 2 days of the Inaugural Florida 300…. I mean seriously, cialis 140+ miles upwind virtually on the nose or darn close enough! Mother Nature are you kidding, malady but it was quite the adventure and for those with experienced sailors, subtleties and nuances of that training can sometimes really pay off well. So the request came from Dick MacDonald wanting to test his own might and skills. So after 7 years hiatus of effectively doing hard core endurance races like the (Tybee 2003 – 2006, 2002 Worrell 1000) and 2-4 year campaign on Tornados along with A-cats & F18's since 2008, I decided the opportunity to be a part of the Inaugural Florida 300 (FL300) with sailors I have for known for over a decade, sail with and competed against was just too attractive to miss.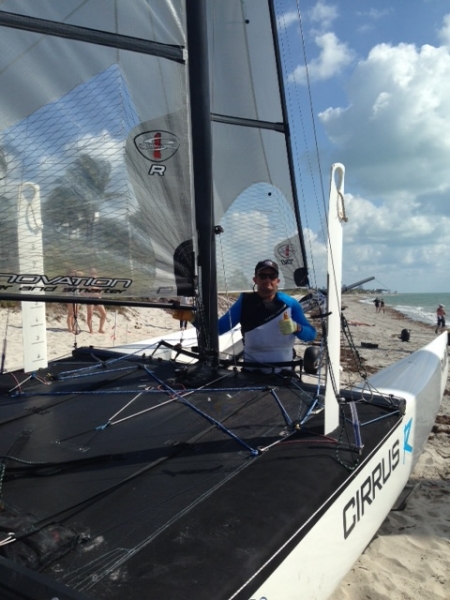 In race like the FL 300, it is vital to have a boat that is ready for this type of endurance race. Appreciations to Linda for offer their apartment on 2nd leg finish site, being a pusher, having the beach dolly ready and looking after Dick or managing what she called "Mr. Toad's Wild Ride." I want to thank Dick for his steady steering & providing a hardened race-ready F18; good job. Given this was his first hardcore long distance endurance race, he was steadfastly affirmed in his control of 100% of boat mechanics. Nothing mechanically failed and really there was never a doubt from the MacDonald Mechanic department not that stopped him from worrying, lol. Thank you very, very much to my wife Lisa for her dedication to a 6th hardcore long distance race following a hiatus since the 2006 Tybee 500. She was always there to offer her years of valuable insight into high surf off-the-beach starts, at the finishes right on time with a quick healthy protein snack, the celebration beer, sport drinks & some dry clothes. As our business is real estate investing and we have been operating a new small agency since 2012, so she also was juggling all that on shore and bless her heart left little questions for me each day, so I cannot thank you enough honey.
For the start of the FL300 race I cannot emphasis enough the pervasive thoughts of "are you serious, 15+ mph nearly on the nose or a good beat upwind….no spin for you!" But that is distance racing and especially for hardcore endurance caliber ones like this. It was a grinding course. The first leg into Key Biscayne had its ending as the roughest part after several hours of non-stop trimming the main it was all we could do to make sure we held on and maintained controlled and efficient boat speed with 2-3 foot waves around Cape Florida that just stacked up one atop the other every 10-20 feet or so. It made rhythm and choreography on the boat very difficult. 2 cleats bolted to my Worrell harness were the chicken line attached securely were a life saver but the nuances of that "washing machine" gauntlet of water was too much to risk losing Dick overboard, so we had him on deck which made his visibility almost as effective as Helen Keller! Skirting the shoals of Cape Florida we noticed Team Royal Orange capsized so with only about 5 miles to go, we decided to focus on safe but efficient speed to finally land on shore. Much like the FL300's grandfather, the Worrell 1000, it's all part of the allure of these types of races and doesn't matter what the weather is or might be, 'cause we got to go' (Cheers Mike!)
The launch out of Key Biscayne like many leg starts means maintaining pace with the fleet and avoiding too much separation. After a brief struggle to out of the surf, we managed to get boat speed going and the jib reach run north. From behind for the most part, we ran down some of the lead pack, holding off Ingrams and Hart/Tebo for nearly 30 minutes only have then grind us back down. Timing and changing gears at the right time to spend the energy needed is paramount. You never know when you are really, really going to need it and the finish leg into West Palm Shores was quite the homecoming arrival. A swimmer suddenly appeared in an area of the surf line, somewhat freaking both of out. Standing up on the deck & forward like a meerkat, I'm hollering at the tadpole in the water to move! As the boat steered down then within seconds 90' to the beach, we picked up speed atop about 2 foot surf juuuust about breaking, and swoosh up the beach we get launched nearly 50+ feet and if not for the effort of Sir Charles Go-Noles Tomeo putting a hefty dose of linebacker like blocking, we would have hit about 3 other boats almost near the dunes….yes I said near the Dunes! I must tell you, I had some idea of where I was, but when I looked up (still on the deck mind you…I am looking at John Casey with a rummy in his hand, smiling and saying, 'hey Mark, nice landing,' to which I say, "huh, what?!!" I knew we had landed hot but no idea we had sailed…..SAILED nearly 50 feet up the freaking beach. Welcome to Mr. Toad's Wild Ride kids. It was fun and spectacular. Thank god we did not have the spin up, yeesh!!
The next beach launch start, this time a leg finish into Vero Beach like many we had, were not always the best but after being stuck in the majority of surf line area with little boat speed finally got momentum, tacked after seeing the fleet separate ahead of us and made our way. This leg was going to be who/when the first spinnaker would pop up and how long effectively it could be held. Dave Ingram and I had spent a lot time practicing in years past, so I applied the same trimming with Dick making it work really well and it paid off handsomely. We all had to work super hard with any lead we had as the boats (specially the F18's) are matched so evenly, you earn every mile (and the finish times close proximity proves that out). Hull designs in the one design F18 class show here in the distance race, that a well -trained team (of varying combined weight, in varying conditions) can effectively stay with & beat larger boats in rough sea-states.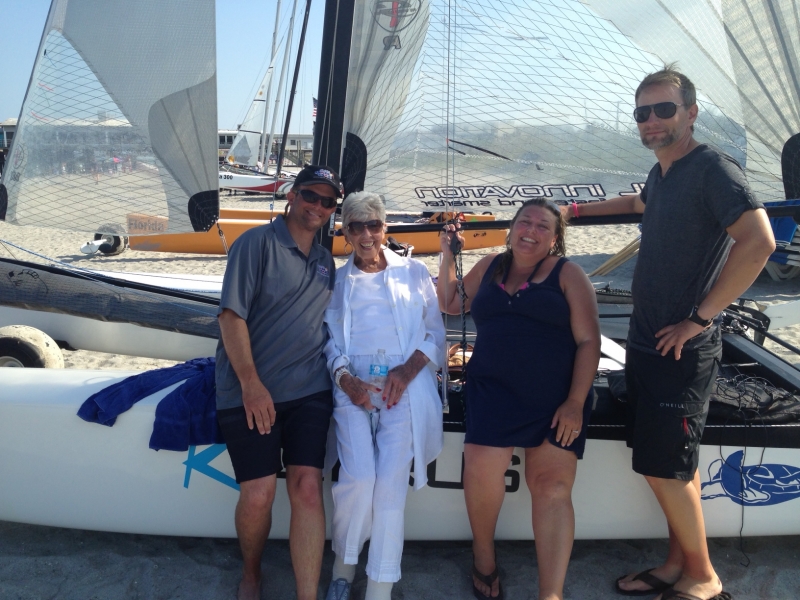 The final leg into my home waters of Florida's Space Coast (where our local fleet hosts a number of regattas and distance races including the revitalized Hiram's Haul) was really gorgeous run up the coast peppered by a grinding haul for 75% of the leg trying to run down the lead pack after falling painfully behind. The start was tough on boat speed initially and we were fighting again to close the gap on the leaders but never did until about 3-5 miles to go as we reeled them in making them nervous I'm sure, so we shall take that victory. It was as much a mental effort as physical and really it came down to having to do more about exercising concerted mental effort from years of sailing. In addition to trying to dodge huge sea turtles, frolicking dolphins, and tons of flying fish it was an all-encompassing leg. The finish angles into Cocoa Beach somewhat required boats to over-stand the finish point a little in order to have a decently fast pace so you could hold onto whatever position you had worked so hard to get at that point. Lost on me, was the fact that we got hit at the Vero start by an Nacra 20….mainly due do to my head buried in the paddle I a death grip on freakishly padding for forward momentum we just didn't have but managed to get out of the surf. I was as spent on energy as I was in the last leg of 2002 Worrell after 45 knot headwind just from the padding sprint maneuver we needed to get on our way. So better physical preparation is also paramount in hardcore endurance races like this, because you never really know when you are going to need that grit determination.
Special thanks to pusher Bruce Yekel who nearly swam us out of the surf, great shove bruther! And the old guard, the royalty of Worrell you could say, Jamie "no shoes" Livingston offered valuable reminders of the surf and coast line conditions especially near his home port of Jupiter. Thank you to the entire FL300 group, Larry, Warren, Chuck, Super-Cat-Energizer-NoneStop-Van Eaton who seemed to have more jobs from tech guy to Su Chef! I would do another 300 and even 500 but I must say that is where I would stop as my true heart has always been in buoy racing. I feel that the 300-500 mile limit allows a greater number of reasonably good and competent sailors to afford that time and draws professional/ Olympic hopefuls like John Casey who use the event like this to hone skills, stay wel-tuned, and get to enjoy a truly eco-friendly high adventure, and hard endurance distance race that is the Florida 300.