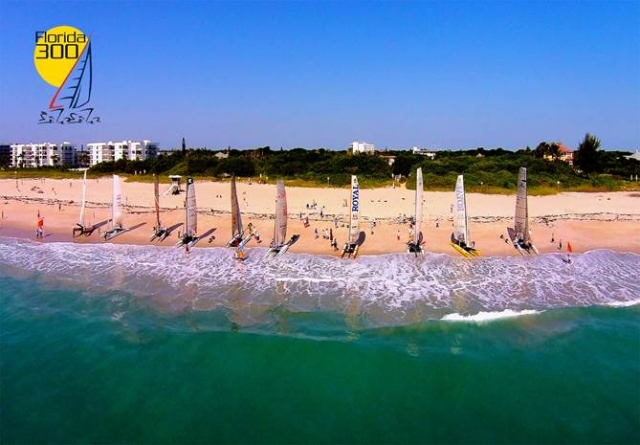 SSPUSA announces plans for the Florida 300 for 2016. We are happy to announce the we will extend the race to Daytona Beach this year which means a race around Cape Canaveral to finish at the chosen Fleet 80 site of Perry's Resort. Fleet 80 is participating and helping to set up a resounding end to this year's race. The race will begin at the Islander resort as in the past two years. Stops will continue to be Key Biscayne, sales Palm Beach Shoes, capsule Vero Beach and Cocoa Beach. More information will be forthcoming soon. See the Florida 300 web site. Racing will begin on Tuesday May 17th in Islamorada and end in Daytona Beach on Saturday May 21st. There is expected to be a large social event connected to awards on Sunday May 22nd in time for return drives home. Early registration with a $150 deposit continues to March 1st, when fees will go up to $450 for those not pre-registered. All fees required by May 1st.
Florida 300 racing catamarans compete in distance courses with boats from 16' to 22', stopping each night along coastal areas departing and finishing on public beaches on or near parks and resort areas. Racing stops along our course provide opportunities for advertising for goals of sponsors for public understanding and developing sources for support sponsors wishing to become a part of this sport. Catamarans are tracked and supported by ground crews following along the route. Our courses limit each day's distance to approximately 70 Miles, no more than 80. Safety considerations include tracking capability for each vessel and crewmember. There are safety requirements for each competitor. Our sailing instructions consider weather restrictions each day of racing. Physical and sailing training is strongly advised for competitors.
Sail Series Promotions USA Inc. (SSPUSA) (sailseries.com or Florida 300.com) a 501(c)3 nonprofit corporation for developing this recreation sport, manages beach catamaran distance races along the Florida and possibly further along Atlantic coastal areas. SSPUSA, provides logistic support to racing teams by setting up stopping points, making race and overnight arrangements at all locations and providing competitive race management. Fees are kept low to create competitor interest. These fees do not support the costs of the race, so funding support is needed. No salaries are provided members of the corporation or committees, all of which are manned by volunteers. Race committee expenses and logistic support to the race are paid from a developed budget. Donations to our cause are welcome.
SSPUSA has completed two years of successful distance races, including both The Florida 300 and Hiram's Haul each year. Objectives are to develop other races and growing extensions to an eventual 1000 mile race up the Atlantic coast. We are considering a growth in the Florida 300 to a 4-500 mile race this year. Entrance fees are at a low $395 this year.
Less competitive catamarans are encouraged to race in smaller segments along the way to grow interest in the sport.
Our current course consists of 5 stops beginning at the Islander Resort in Islamorada, the Florida Keys, proceeding in succession to Key Biscayne, Palm Beach Shores, Vero Beach, finishing in Cocoa Beach. We are considering another leg to finish in Daytona Beach. All legs are 55 to 70 miles in length. Your thoughts on this addition are requested.
We encourage sailors and crews, as teams, to join us in this competitive race endeavor. Come join your friends and other sailors to prove your on skills and display your prowess in this endurance type sport. You may contact any of the following for more information and to get your team signed up to compete.
Please forward to anyone you wish or consider may be interested to be involved.
Warren G Green
Sail Series Promotions USA Inc.
Phone: 321 773 2391 h; 321 544 1512 c
Email:
This email address is being protected from spambots. You need JavaScript enabled to view it.
Address: 18 Spinnaker Point Court, Indian Harbour Beach, FL 32937
Chuck Bargeron
Phone: 912 507 9983
Email:
This email address is being protected from spambots. You need JavaScript enabled to view it.
Lisa Page
Phone: 239 825 4528
Email:
This email address is being protected from spambots. You need JavaScript enabled to view it.
Larry FerberDennis Green
Phone: 305 522 4944
Email:
This email address is being protected from spambots. You need JavaScript enabled to view it.